Directions
Directions & Transportation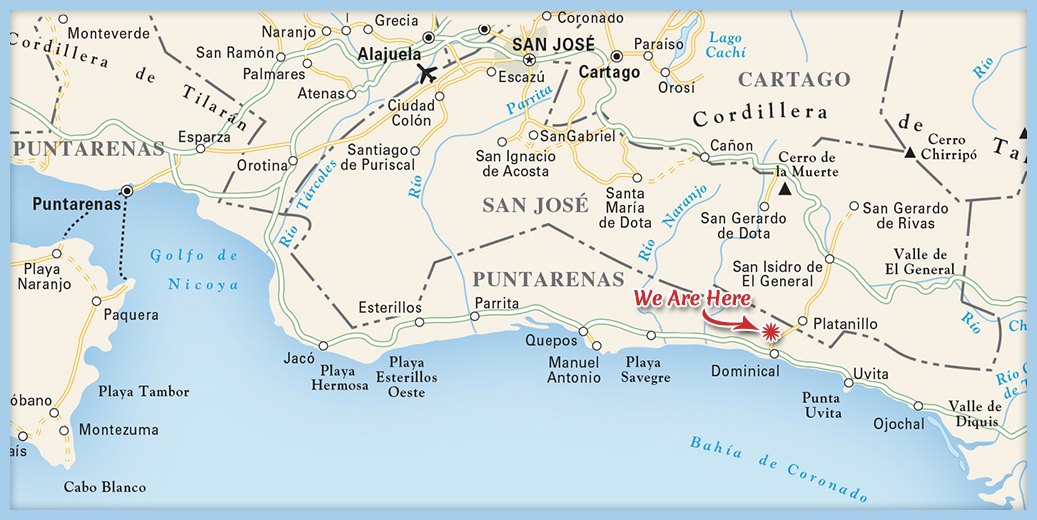 1. Arrival & Departure
From San Jose Airport to TIERRA SAGRADA:
TIERRA SAGRADA is about 3 hours from the airport to Dominical. There are two shuttle options: MonkeyRide (approx: $60; tel: 2787-0454 and USA: US TEL: (323)285 8832, email: info@monkeyridecr.com) and EasyRide (approx: $60; tel: 8812-4012 and USA: 703-879-2284 email: info@easyridecr.com).
A private car can also be rented either way for about $125 for 1-4 people, by MonkeyRide or EasyRide or others (sse info above). Thus, if shared by two people or more, it's very inexpensive and you can arrange your time of travel giving you more flexibility from and to the San Jose Airport.
From Dominical it is a 20 minute ride up the mountain to our Center. You could take a taxi from Dominical for about $20-25.
If coming by car, before entering Dominical, turn left onto Route 243 towards San Isidro for about 5 minutes. Before the first small metal bridge (and a tire repair business on the right), turn left onto Lagunas Road.
Drive straightway, with patience, on a rugged and steep dirt road, about 5.6 kilometers (approx. 20 minutes) to the top of the mountain where you will see THREE electric poles with WHITE CIRCLES. Then head downwards, past the first green gate, and then to the second gate were you will see a big wooden sign on the right side of the road that says Reserva Mira Piedras.
Turn right into driveway and proceed on the road directly, without turning, until you see signs for Tierra Sagrada.
IMPORTANT: See last two entries below for two maps of reaching Tierra Sagrada Center
One can also take a local jumper plane from SJO with Sansa  or Skyway Airlines (NEW airline) (takes only 20 minutes with costs about $90 and arrives in Quepos, which is about a 30 minute ride to Dominical by Monkey Ride or Easy Ride or taxi.  OR, we can pick up up for a $25 charge. From there to TIERRA SAGRADA see info above, or 2 maps below.
One can also rent a 4 x4 car and take the Pacific Coast Highway (Caldera) to Dominical. If 3 or 4 can arrange to arrive about the same time, this SHARED option is the BEST (about $400/wk, plus insurance).
2. Exploring surrounding area

Depending on the number of people using these options, there will be a small fee, either for a van or a taxi. There is so much to do and see surrounding Tierra Sagrada and it adds value to your retreat to plan with one or two half or full day adventures.  One location for excellent information: uvitainfocenter@gmail.com or tel: 2743-8889.
Frommer's Costa Rica Guide or others, are a MUST.                                Puchase it and study the Southern Pacific Region for great tips.
Contact Us for any questions in regards to directions and how to get to Tierra Sagrada.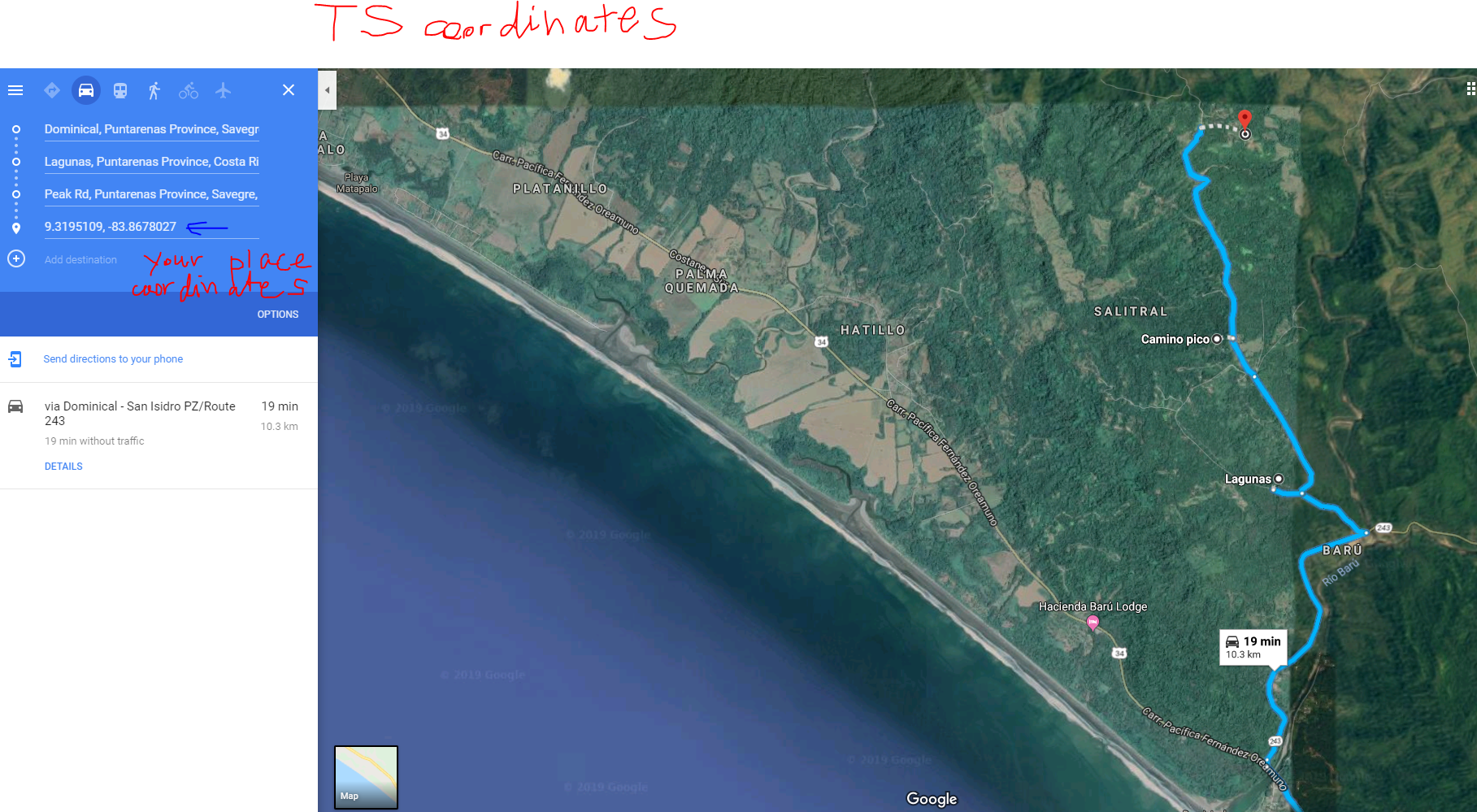 From Dominical to Tierra Sagrada entrance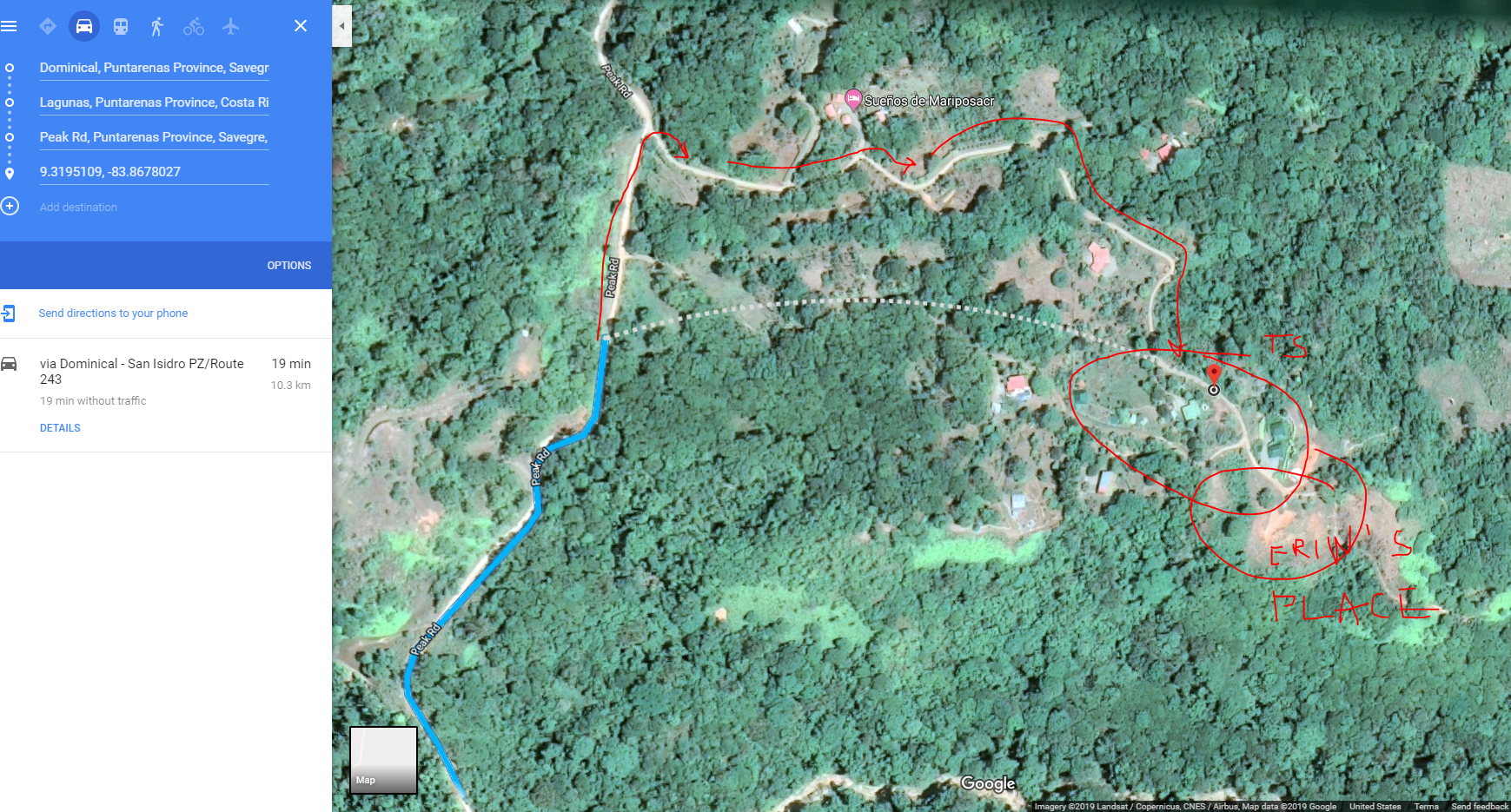 Once at Gate entrance, follow RED line
Once at the top of the mountain, and starting to go DOWNHILL,
you will pass one GATE on the right; continue to the SECOND
Gate on the right. See a wooden sign there: RESERVA MIRA PIEDRAS. Turn
right into the road and follow the RED LINE.
It is 5.6 kilometers to OUR gate.