Host a Retreat
This is the most incredible place to host retreats!
The never-ending views of the valley, rivers, mountains and Pacific Ocean provide for an extraordinary place to heal, transform, and reawaken to the visions of your heart. We are high up in the mountains with day temperatures around 80 degrees, with refreshing winds for most of the day, and cool nights for wonderful sleeping around 65 degrees. We are only 15 minutes from the lovely beach town of Dominical, and the Pacific Ocean.
Tierra Sagrada holds up a minimum of 10 retreat participants and a maximum of 23 (if there are 2 people in each tent). The main house is generally for retreat hosts and staff.

Facilities
We have a gorgeous yoga pavilion with stunning views that can be used for yoga, dance, meditation, and is a great workshop space. There is also a covered circular ranchito that can be used as an additional space for meditation, yoga, etc, also with breathtaking views. There is an additional platform, with roof, in back of the Main house that is a quiet and tranquil space for a bodywork sessions.
Explore our New Yoga Pavilion
We have a delightful plunge pool outside of the main house and a magical fire circle for evening entertainment.

There are incredible hikes from the property down into the rainforest or through the jungle out into the countryside.
Main House
Two leaders, plus helpers, have use of the FULL Main House. There is also a loft space that has three separate sleeping spaces with twin beds.
Guest Houses
1 single room, 1 double room (2 twin beds), kitchen, living space and bathroom
Tents
There are five tents on platforms each with a roof/porch. Single tent and double options with air mattresses and bedding provided.
Camping
Plenty of space for camping. Bring your own tent, individually or for more, and we will find you a good location. We love to welcome folks with varied income. We have a three compartment tent ready for use, excellent for two. ($20/night)
» Click photo below to enlarge
Food
Retreat fee by Tierra Sagrada
We charge $4450 for the week for lodging and to coordinate food and smooth flow of the retreat for you, which includes planning local excursions. Food costs are about $1500 for 10 people, for a total of $5950 (If less people, food cost is lower).
A deposit is required to reserve your accommodation and dates. The balance due can be made in 2 more payments for your convenience. Deposits are not refundable, however, a deposit can be used for future reservations within one year of date of cancellation.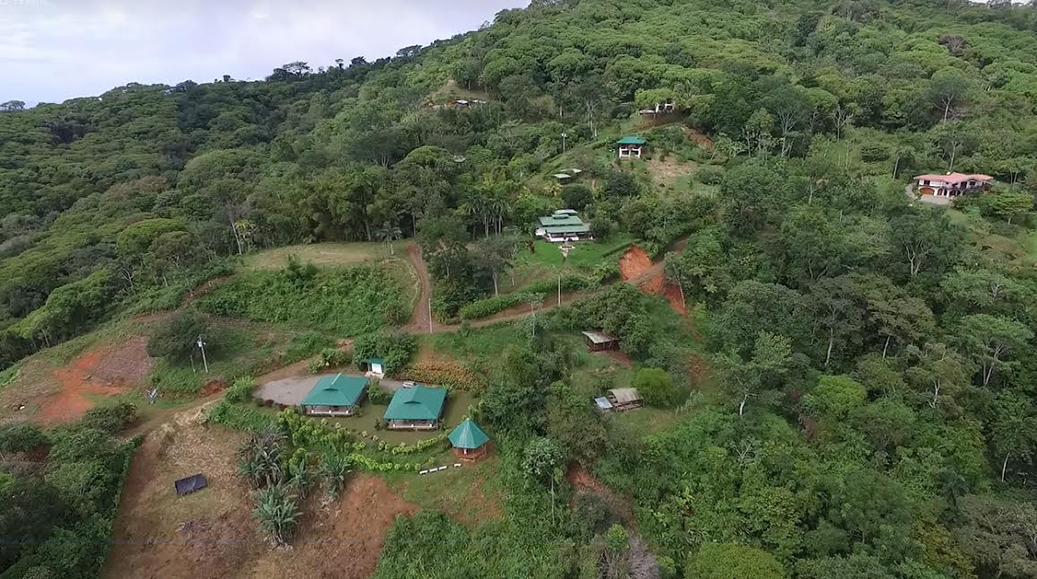 Tierra Sagrada de Costa Rica Site Map (click to enlarge) Also under CONTACT at top, go to UPDATES for latest NEW Information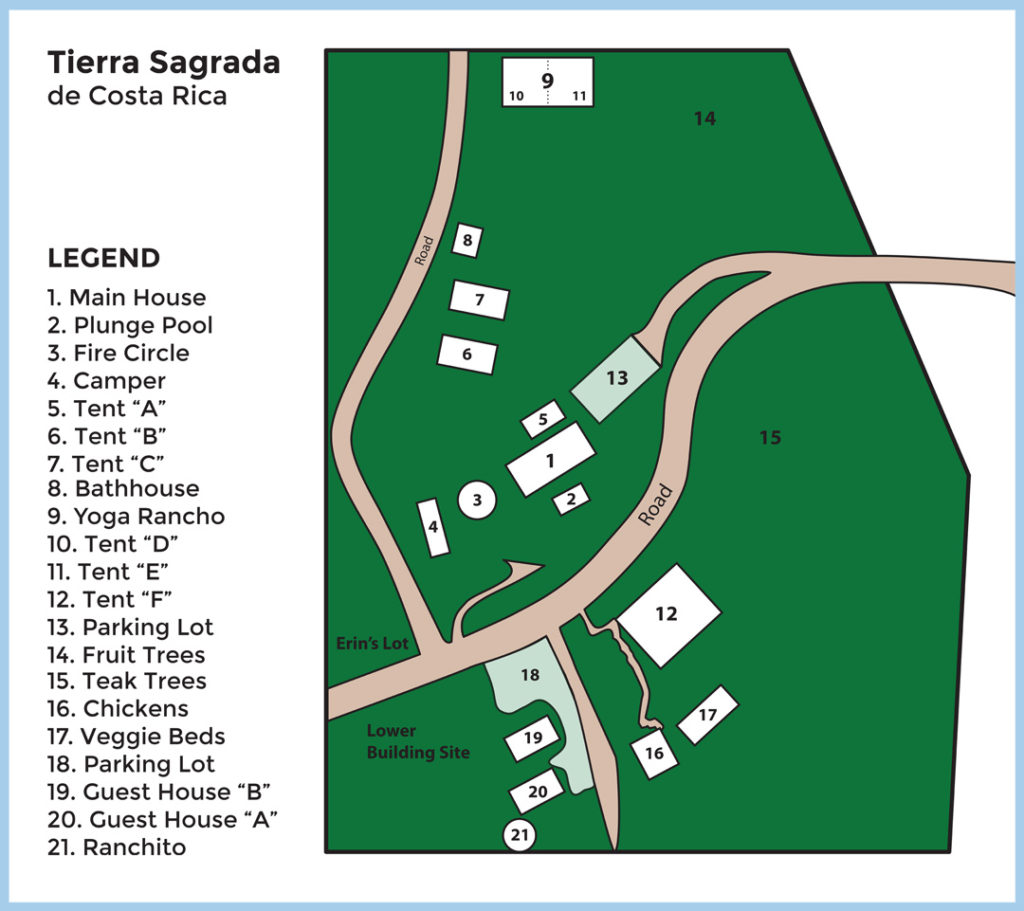 Bookings and Inquires
Contact us here with your desired date and the type of retreat you would like to host and then we will be in touch to discuss availability and pricing.
You can also email us directly at: info@costaricaretreats.org for general inquires and to book your retreat.
Enjoy an aerial tour of our magnificent location.
We look forward to hosting you at Tierra Sagrada!