Host a Retreat
The most incredible, intimate location to host transformational retreats in Costa Rica
Tierra Sagrada de Costa Rica boasts never-ending scenic views of the valley, rivers, mountains and even, the Pacific Ocean from the different buildings on our retreat property. This healing rainforest oasis provides an extraordinary place to awaken and transform your retreat participants while immersing in magical Costa Rican nature. Located only a 15-minute drive from the lovely beach town of Dominical, on the South Pacific Ocean coast. The retreat center, composed of 7 buildings and 3 retreat spaces, is high up in the mountains with cooler day temperatures around 80 degrees, with refreshing breezes most of the day, and cool nights for rejuvenating rest around 65 degrees. Our lovingly built retreat space is perfect for yoga trainings, meditation retreats, ecstatic dance or movement practice, transformational coaching and everything in between.
Tierra Sagrada holds up a minimum of 10 retreat participants and a maximum of 23 in 13 rooms. The prime house with infinity pool and outdoor shower, next to the Temple space, is recommended for retreat hosts or VIP participants.
Group Retreat Facilities
A gorgeous open-air yoga pavilion with stunning mystical mountain views that can be used for yoga, dance, meditation, or any type of retreat workshop or exercises. We are equipped with yoga mats and bricks, and can get additional yoga or meditation props upon request. Tierra Sagrada de Costa Rica also features two additional workshop spaces for retreat groups. A covered circular ranchito that can be used for smaller group activities or private session, also with breathtaking natural views. And a newly built Temple space, perfect as an additional yoga or meditation platform, beside the Prime house. Guests have had bodywork, spa and massage sessions here or morning small group yoga / meditation classes. Our retreat spaces are flexible, varied and spread out throughout the unique Tierra Sagrada mountain-side property.
Watch this video to explore our spacious Yoga Pavilion Retreat Space
Tierra Sagrada de Costa Rica features an infinity pool in our Prime house, an enjoyable plunge pool outside of the Dormitory house, as well a much-loved for retreats, magical fire circle for evening gathering and ceremonies.

Prime Temple
This magical space has magnificent ocean views, warm breezes and is an incredible spot for sunrise meditation, yoga, dance, circles and all other retreat related gatherings.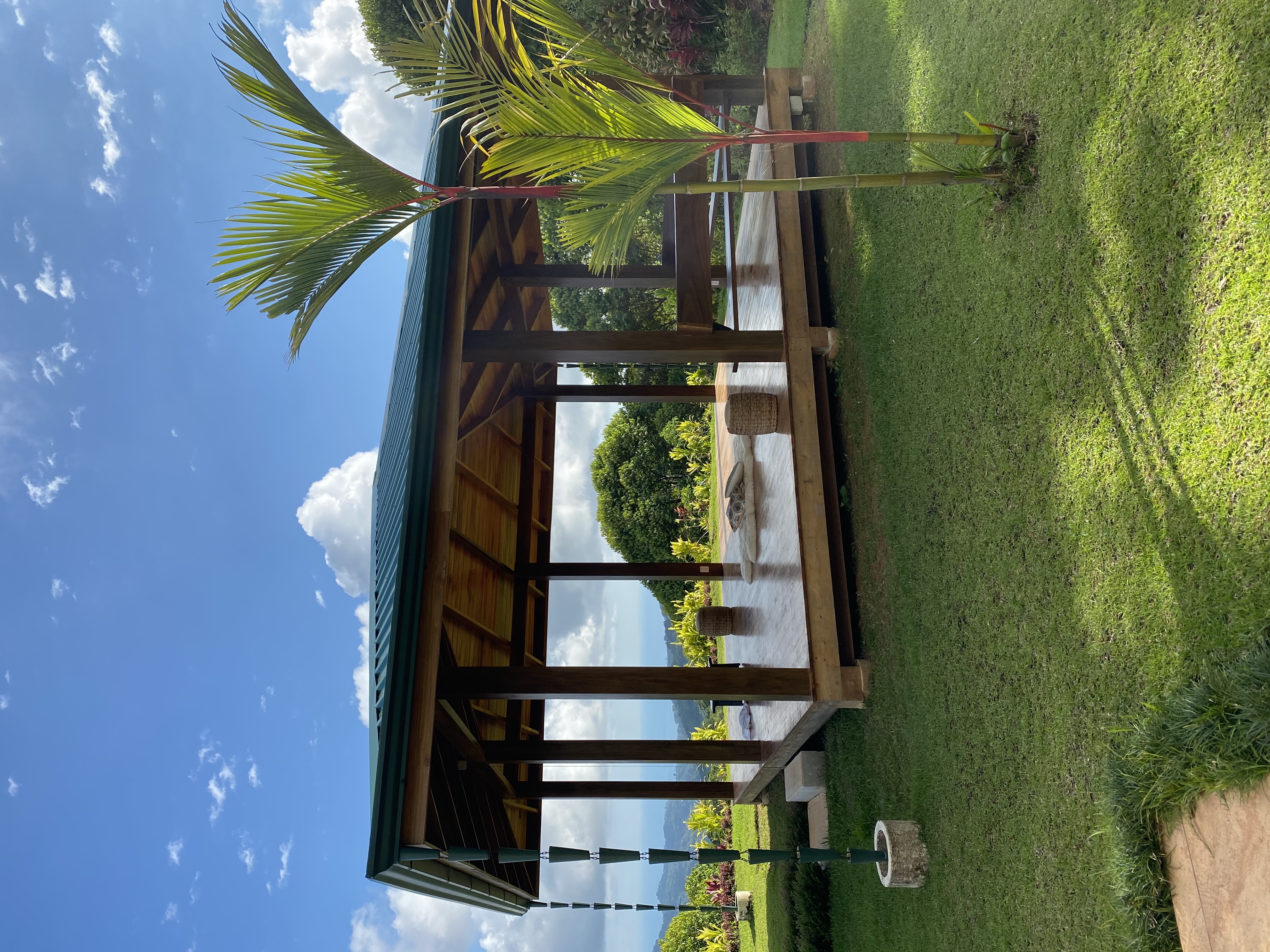 Groups enjoy several incredible hiking trails around and down from the Tierra Sagrada property into the lush rainforest or through the wild jungle out into the open countryside. Whatever your group's interests or preferences work with our on-site Retreat Coordinator, Jeff, to share your retreat vision and we will help you create the most amazing retreat experience for your participants.
Booking Retreat Groups at Tierra Sagrada
The Retreat Fee will depend upon some factors, such as length of time, number of people, etc., for lodging and to coordinate food and smooth flow of the retreat for you, which includes planning local excursions. Food costs will vary depending upon your menu needs and whether you bring your own chef or depend upon our local cooks. Best to notify us of ALL your needs and desires in order that we may create a truly GREAT retreat for you and to mutually finalize what the fee will be.
A deposit is required to reserve your accommodation and dates. The balance due can be made in 2 more payments for your convenience. Deposits are not refundable, however, a deposit can be used for future reservations within one year of the date of cancellation.

Retreat Booking fee also includes:
3 healthy meals per day and snacks
Exclusive use of our open-air Yoga Pavilion, Temple and Yoga Ranchito, for yoga classes, workshops, etc.
Daily use of the infinity and plunge pools on property
Hiking trails to explore the nature, wildlife, and scenic views
Tierra Sagrada On-site Retreat Coordinator to help you with logistics, transport scheduling and excursion planning
Reach out to Tierra Sagrada de Costa Rica and notify us of all your specific retreat needs and desires, so we can work with you to create a truly unforgettable retreat experience for you and your participants.
A 1/3 deposit is required to reserve your accommodation and hold your dates. The second 1/3 payment is due halfway between signing the contract and the retreat. Final 1/3 of payment must be received a minimum of 14 days prior to check-in/start date of the retreat.
Please Note: The deposit is NON – refundable, but is transferable to a later date within one year of the changed booking.

Bookings and Inquiries
Contact us here with your desired date and the type of retreat you would like to host and then we will be in touch to discuss availability and pricing.
You can also email us directly at: info@costaricaretreats.org for general inquires and to book your retreat.
Enjoy an aerial tour of our magnificent location.
We look forward to hosting you at Tierra Sagrada!