Retreat Accommodations
Tierra Sagrada de Costa Rica Accommodations include:
Prime House Sleeps 2-4
Main (Dorm) House Sleeps 4-5
Two Guest Houses Sleeps 2-3 (in each house)
Two Yoga Studio Rooms Sleeps 1-2 (in each room)
Two Casitas Sleeps 1-2 (in each room)
Prime House
Newly built in 2019, a luxury home perched on the hilltop with incredible views, you can even see the gorgeous Pacific Ocean. Sleeps two to four people with two spacious bedrooms with private en-suite bathrooms. Prime House includes a large indoor living room area with television, state-of-the-art, fully equipped kitchen, extensive outdoor porch dining and lounging areas with scenic, large infinity pool with hot tub. The Prime House kitchen is perfect for preparing and serving meals by our chef for our Retreat groups. A totally new development at Tierra Sagrada. An upscale exquisite two-bedroom, two baths, large living room, latest kitchen equipment, outside extensive porch with large infinity pool, an outside shower, with artistic statues/paintings, surrounded by various gorgeous plants/flowers/trees. Incredible views of valleys, rivers, mountains, forests and even the Pacific ocean. Sleeps up to four. Please watch our newly created video.
---
Main House
Two leaders, plus helpers, have use of the FULL Main House. There is also a loft space that has three separate sleeping spaces with twin beds.
---
Guest Houses
1 single room, 1 double room (2 twin beds), kitchen, living space and bathroom
---
Yoga Studios
Studio#1: HAPPINESS and STUDIO #2: GRATITUDE
Casitas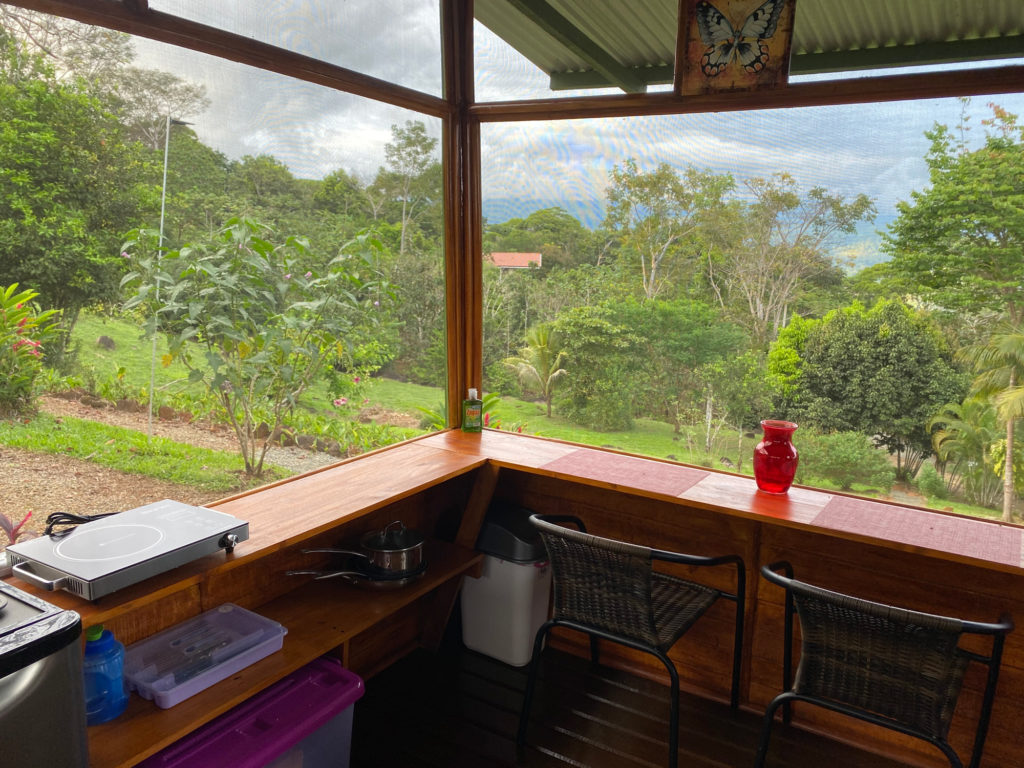 ---
Food
A hearty delicious breakfast is included daily during the retreat and lunch and dinner are included on all days except the free days. Lunch and dinner will be prepared by the women who live in the neighboring Tico (Costa Rican) community. It is authentic Costa Rican cuisine and is a real treat! It is served buffet style. We recommend that you bring your own healthy snacks if you want those throughout the day.

---
Contact Us
Contact us here with your desired date and the type of retreat you would like to host and then we will be in touch to discuss availability and pricing. You can also email us directly at: info@costaricaretreats.org for general inquires and to book your retreat.
For accommodation pricing, see the Host a Retreat page by clicking here.
We look forward to hosting you at Tierra Sagrada!